| | |
| --- | --- |
| The Blue Lamp | |
Credits
Directed by Basil Dearden, 2nd unit direction Alexander Mackendrick who also supplied additional dialogue. Script by T.E.B. Clarke from a story by Ted Willis and Jan Read. Photography by Gordon Dines and art direction Tom Morahan. Ernest Irving composed the music and Peter Tanner edited. Produced by Michael Relph. The cast are Jack Warner, Jimmy Hanley, Dirk Bogarde, Robert Flemyng, Bernard Lee, Patric Doonan, Peggy Evans, Frederick Piper, Betty Ann Davies, Dora Bryan, Norman Shelley, Gladys Henson, Bruce Seton, Meredith Edwards, Clive Morton, William Mervyn, Campbell Singer, Michael Golden, Glyn Houston, Muriel Aked, Renée Gadd, Charles Saynor, Gwynne Whitby, Sidney Pointer, Gene Neighbors, Glen Buckland, Jenifer Jayne, Doris Yorke, Cameron Hall, John Salew, Anthony Steel, Sam Kydd and Tessie O'Shea.
Basil Radford and Glynis Johns are visible as passers by in street scenes.
Synopsis
Two hoodlums, Riley and Spud (Bogarde and Doonan), and a girl, Diana (Evans) hold up a cinema. During their escape a copper (Warner) who is just about to retire is killed, which sparks a man hunt not only by the police but by other crooks who don't hold with guns. A second robbery also goes wrong. In the course of his flight Riley strangles Diana to ensure her silence. The police finally track Riley down to a greyhound stadium where the police, the underworld gang operating there and the crowd all conspire to deliver Riley up to the law.
Released January 1950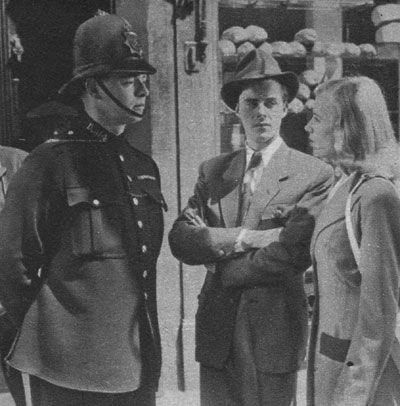 Jimmy Hanley, Dirk Bogarde and Peggy Evans
Back to Ealing history
Back to Ealing filmography
Back to the Top Page