| | |
| --- | --- |
| They Came to a City | |
Credits
Directed by Basil Dearden, associate producer Sidney Cole. Script by Dasil Dearden and Sidney Cole from a play by J.B. Priestley. Photographed by Stan Pavey, art direction Michael Relph. Music composed by Alexander Scriabin. Editor Michael Truman. The stars are John Clements, Googie Withers, Raymond Huntley, Renée Gadd, A.E. Matthews, Mabel Terry Lewis, Frances Rowe, Ada Reeve, Norman Shelley, Ralph Michel, Brenda Bruce and J.B. Priestley.
Synopsis
Nine people arrive in a utopian city where there is no poverty or overcrowding or overwork. The nine are all from different walks of life and the film explores each person's reaction to this 'ideal'. Of the nine only two stay, two leave to tell the world about the city and five leave having gained nothing. Socialism wrapped up in fantasy. Most of the main members of the cast were in the play production, the film has an introduction and epilogue featuring Priestley. One of Balcon's experiments which didn't come off.
Released August 1944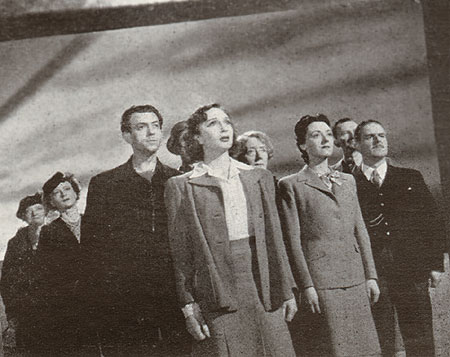 from left to right: Ada Reeve, Mabel Terry Lewis, John Clements,
Norman Shelley (behind), Googie Withers, Renée Gadd, Frances Rowe, Raymond Huntley, A.E. Matthews.
Back to Ealing history
Back to Ealing filmography
Back to the Top Page