| | |
| --- | --- |
| Train of Events | |
Credits
Train of Events was directed by Sidney Cole, Charles Chrichton, and Basil Dearden. Associate producer was Michael Relph, script by Dearden, TEB Clarke, Ronald Millar and Angus McPhail. Photographed by Lionel Barnes and Gordon Dines, art direction Malcolm Baker-Smith and Jim Morahan. Music Leslie Bridgewater and editing by Bernard Gribble. The cast (by story) in The Engine Driver were Jack Warner, Gladys Henson, Susan shaw, Patric Doonan, Miles Malleson, Philip Dale, Leslie Phillips. In The Prisoner of War were Joan Dowling, Laurence Payne and Olga Londo. The Composer starred Valerie Hobson, John Clements, Irina Baronova, John Gregson, Gwenn Cherrell and Jacqueline Byrne. The cast of The Actor were Peter Finch, Mary Morris, Laurence Naismith, Doris Yorke, Michael Hordern, Charles Morgan, Guy Verney, Mark Dignam, Philip Ashley, Bryan Coleman, Henry Hewitt, Johnnie Schofield and Lyndon Brook.
Synopsis
A number of characters are involved in a train crash. A potrmanteau film which traces their stories and relates how they came to be on the train. The train driver who is up for promotion and the squabbles of his family which compromises his position. The philandering composer whose wife and lover have a chat over tea about which one of them will keep him. The German prisoner of war who doesn't want to be repatriated and the East End orphan who has fallen in love with him. Th actor who kills his wife and hides her body in a costume trunk which his theatre company is transporting to Liverpool. All their dilemmas are solved one way or the other after the train crashes.
Review
Train of Events is often compared unfavourably with Ealing's earlier portmanteau film Dead of Night which is unfair as the two films are of very differnt genres. Train of Events is very much in the documentary style which Ealing adopted in the earlier part of the decade but with the humour of their later comedies. The impeccable cast are all alloted appropriate characters, with particularly good performances from Valerie Hobson and Joan Dowling. Editing is of course very important in films such as this where the stories are told simultaneously, and in Train of Events the Ealing emphasis on editing really bears fruit, the tensions of the stories and contrasts of humour and pathos all add up to a tight and exciting product.
Released August 1949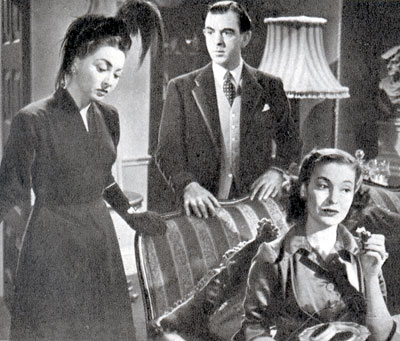 Irina Baronova and Valerie Hobson discuss John Clements
over a cup of tea and a bun
Back to Ealing history
Back to Ealing filmography
Back to the Top Page