Jean Kent was born Joan Mildred Field on June 29th 1921 in Brixton, London. She was a dancer from the age of 11 and then later for a time was a chorus girl at the Windmill Theatre in London.

Her first real break (there were bit parts before this) came in "It's That Man Again" (1942). She went on to be a familiar face in many major movies during the 1940's and 50's, generally cast as spiteful hussies or femme fatale.

Jean Kent died November 30th aged 92 in West Suffolk Hospital, Bury St. Edmunds, from injuries sustained from a fall at her home in Westhorpe, Suffolk.

Obituary at the Telegraph...

More to come...


ARCHIVED PRESS RELEASE - September 21st 2011


SCREEN LEGEND JEAN KENT AIDS WESTHORPE'S CAMPAIGN FOR NEW £200,000 VILLAGE HALL
In her 90th birthday year, the legendary British stage and screen idol Jean Kent is helping the villagers of Westhorpe, where she has lived for 25 years, to raise the £200,000 they need to build a new village hall.

Jean, a glamorous superstar of the 1940s and 1950s, who headlined in movies alongside Marilyn Monroe, Laurence Olivier and Dirk Bogarde, and in the theatre with Sir David Jason and Penelope Keith, received a prolonged standing ovation from a packed cinema audience when she appeared on stage at London's National Film Theatre on her 90th birthday on June 29.

Now she is to attend screenings at Westhorpe Village Hall on September 29 and 30 of one of her biggest movie hits, the 1949 Technicolor musical, Trottie True, in which she plays a stage star who becomes a Duchess. She is supported in the film by Last of the Summer Wine actor Bill Owen, Carry On legend Hattie Jacques, with early appearances as Stage Door Johnnies by screen knights Sir Roger Moore and Sir Christopher Lee.

At her secluded home in Westhorpe, Jean said: "The local villagers are trying desperately to raise the £200,000 they need to build a new village hall to replace the rather dilapidated existing one."

"They asked if I would attend two screenings of Trottie True, which is my personal favourite out of all my 47 films, in order to raise money, and I said that of course I would do my bit for the fund-raising. Westhorpe so badly needs a new village hall".

Those wishing to attend one of the two screenings can order tickets at £5 each by sending cheques made payable to Westhorpe Village Hall to the local organiser, Philip Aldous, at 9 Church Road, Westhorpe, IP14 4SY, or by telephoning 01449 780299.

Mr. Aldous said: "Jean Kent has always lived a very private life here in Westhorpe, and the local residents respect her privacy. But we are all thrilled that she is making an exception by attending our two film shows. She has agreed to talk to the audience and to introduce the film on both nights. We are all really excited about it".

Jean Kent will be introduced to Westhorpe audiences, as she was at the National Film Theatre in London, by the Daily Mail columnist and former national film critic, Michael Thornton.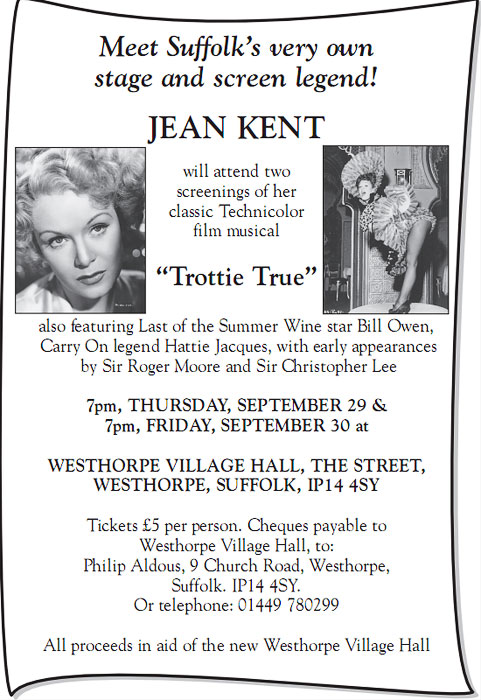 Back to the Top Page