THE LATEST NEWS
FACEBOOK FAN GROUP
(18th May 2019)
For those who have an account and use Facebook there's a Facebook fan group for Patricia Roc. It can be found here...
"THREE SILENT MEN" RELEASED BY RENOWN PICTURES
(16th September 2013)
The wonderful Renown Pictures who specialise in unearthing obscure British B Movies have released "Three Silent Men" (1940) on DVD starring Derrick De Marney and Patricia Roc. Synopsis: "An inventor of a deadly weapon to be used against the allies is injured in a crash. Surgeon, Sir James (Sebastian Shaw) saves his life but learns of the inventors plot. The next day the inventor is found dead. Could it be the surgeon? A 1940 Butchers production." Pick up your copy from amazon.co.uk

This is a Patricia Roc movie that has not been available previously and is not one I've seen so will view with interest and write a review when I've done so...
A BIOGRAPHY OF PATRICIA ROC
(6th November 2010)
Finally a biography of Patricia Roc is to be published. Michael Hodgson's biography of her "Patricia Roc: The Goddess of the Odeons" becomes available this month. The Daily Mail has written a peice about it concentrating on Pat's affair with Ronald Reagan in the 1940s. I will be getting a copy of course and will comment further when I've read it. Get your own copy from Amazon here in paperback or hardback.

Press articles:
The Daily Mail
www.irishcentral.com



PATRICIA ROC ON eBay

There's always plenty of Patricia Roc rarities, ephemera and movies for sale on eBay.


PATRICIA ROC FILMS FOR SALE ON DVD
(Last updated October 2008)

While Patricia Roc was one of the biggest names in British movies of the 1940s (along with Phyllis Calvert and Margaret Lockwood) sadly release and availability of her films is patchy. Here we list all the films that are currently available on DVD from the UK for your convenience. This section of the news will be revisited and updated from time to time as new releases appear and old ones are deleted.

IMPORTANT: If you are using an ad-blocker nothing will appear below. Please turn off ad-blocking to see links to the videos for sale.



Further movies can be found on VHS - here are a few links to some not already listed above...

Love Story [1944]
Jassy [1947]
The Perfect Woman [1949]
---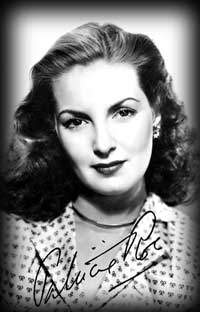 Obituaries
Sadly Patricia Roc died on December the 30th 2003 in Locarno, Switzerland officially from kidney failure although it was really a combination of a number of things associated with old age. Below are links to obituaries reported in the Media at the time. I am sure we will all remember her for her delightful performances and all she gave to us. Even if she did not know every one of her fans personally I know she cherished all the good wishes and interest that people sent her. I also feel she touched, sometimes quite deeply, many lives through her work.

The Guardian (Obituary)
The Telegraph (Obituary) (*)
BBC: Actress Patricia Roc dies aged 88
The Telegraph: Actress Patricia Roc dies (*)
The Scotsman: Film 'goddess' dies at 88

(*) requires free registration


All written content © copyright www.wickedlady.com