The Patricia Roc Filmography
The Divorce of Lady X

London Films 1938 92mins Colour (Technicolor)

Directed by: Tim Whelan
Produced by: Alexander Korda (uncredited)
Starring: Merle Oberon, Laurence Olivier, Binnie Barnes, Ralph Richardson

Plot Synopsis
Since this film only has Pat in a tiny bit part I'm not going to go into it in too much detail - but essentially Laurence Olivier plays a barrister who falls in love with Leslie (played by Merle Oberon). They meet by chance when fog limits the number of hotel rooms available and he is forced to share his rooms with her (much to his distaste intially). Later it emerges that Leslie is the woman he thinks his client will soon be divorcing. But of course being a romantic comedy with farcical elements it's not as simple as that and complications soon ensue.

Commentry
Both Laurence Olivier and Merle Oberon are superb in this film and it's a fine example of early British comedy. The film is well worth watching in it's own right.

Pat only has a bit part with no lines but it is her first screen performance so I have included it here for completeness. Really you would have a tough time finding her but from my interview with her she said: "My first film appearance was with Merle Oberon in "The Divorce of Lady X". I used to ride an awful lot, and I was an extra in the background on horseback! That was the first thing that gave me the idea to act...". I asked her if we might spot her if we watch carefully and she replied "Oh, I doubt it, you wouldn't recognise me. You might recognise the horse, but I'm sure you wouldn't recognise me... (laughs)". When I recently watched the film I kept an eagle eye out for her. She was right in that the only scene in the film with horseback riders are preparations for a fox hunt and if she is in it the appearance is very fleeting. I didn't recognise her as any of the horse riders but the frame grab below just might be her standing by the door (not on horseback). Probably only Pat herself knew for sure though!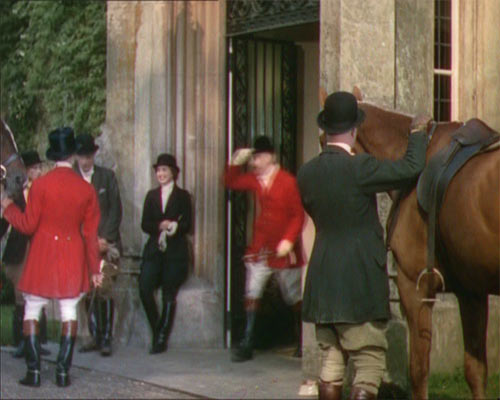 Availability
| | |
| --- | --- |
| | At the time of writing Network DVD have this released and available. The transfer is very good and it's a superb example of technicolor from the 1930s. You can get a copy easily at Amazon (to the left) or if you fancy your chances finding a bargain |