Her film contract lapsed, her only important work in 1938 was a reprise of "Peter Pan" in the West End, following the late withdrawal of its usual star Jean Forbes-Robertson. However behind the scenes, David O Selznick was in pursuit. He had been intrigued and excited by "Young and Innocent" and was convinced Pilbeam was perfect for the lead in "Rebecca" and could be turned into a world star with the correct handling. Hitchcock had conceived "Rebecca" in vastly different terms than the book and balked. Selznick was not discouraged and asked his London agent to find out if Nova wished to try Hollywood and it transpired that she did, but her agent was worried by the proposed five year contract with its exclusivity clauses. Hitchcock continued to contend that Pilbeam was too immature for the part and ultimately Selznick abandoned his pursuit. Interviewed in 1990, it was apparent that she knew of the "Rebecca" opportunity, but thought that Hitchcock wanted her and Selznick did not!

In 1939 Nova made a foray into early television in "Prison Without Bars" about a young woman in a reformatory who falls in love with the institution's doctor. Presumably live and unrecorded, it is regrettable that it was not made into a film as it sounds more challenging than most of her adult film work.

1939 also saw her return to films in "Cheer Boys Cheer" an Ealing production co-starring Edmund Gwenn, about the rivalry between two breweries, one traditional and one modern. Cited as a precursor to the Ealing comedy tradition of the late 1940's, Pilbeam was very sophisticated in an almost screwball role.

Shortly after the commencement of the Second World War, Nova announced her engagement to fledgling film director Pen Tennyson, seven years her senior. They had first met when he was Hitchcock's assistant director on "The Man Who Knew Too Much". The couple were married on a very rainy day at Caxton Hall in London on 19th October 1939 and honeymooned in Devon.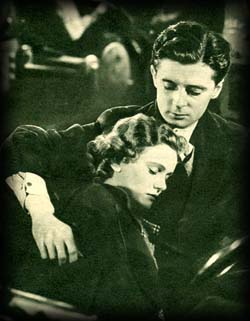 On their return, Nova did a radio broadcast of "Romeo and Juliet", played Viola in Twelfth Night at Oxford and started work at Twickenham Studios in "Pastor Hall", a serious "Horror of the Nazis" picture by the Boulting Brothers. Nova plays the daughter of a German Pastor who denounces the Nazi regime from his pulpit. It's a strong film which includes a pro abortion argument, but unfortunately, on its release in May 1940 it was ignored by audiences turned off by war stories.
She made another film in 1940, "Spring Meeting" opposite Michael Wilding, which she remembered as lovely. Unfortunately this has not been revived for at least twenty years.
Pen took up a long deferred commission in the Navy in June 1940 following the completion of his third film "Convoy". Nova allegedly helped him to learn signalling by sitting opposite him sending highly unnautical messages in morse! She also put her career on virtual hold for a year to be available to visit him when he had leave or to stay with him when he had a shore posting, as he did from December 1940 when he joined the Admiralty's instructional film unit.
In July 1941, Pen was filming at Scapa in Scotland. On 7th July he sent Nova the following telegram: "Will be with you tomorrow evening - cheers". On 11th July the following headline appeared in the Daily Mail, "Husband of Nova Pilbeam Killed". The plane he had taken to Rosyth, where he was to catch the mail plane to London, had crashed an hour after the telegram had been sent. Nova was only twenty one years old.
She returned to work. She was the glamourous juvenile lead in "Banana Ridge", a farce with Robertson Hare and appeared in two plays at Kew's Q theatre, "School for Slavery" in November and J M Barrie's "A Kiss for Cinderella" at Christmas.