The Patricia Roc Filmography
Blackjack (US: Captain Blackjack)

French/US Co-production

Directed by: Julien Duvivier
Photography by: Andre Thomas
Starring: George Sanders, Patricia Roc, Agnes Moorehead, Herbert Marshall, Marcel Dalio, Josť Nieto

Plot Synopsis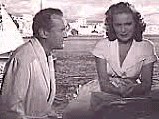 The film revolves around two main themes.

The first part is about the stricken ship "Chalcis" - packed to the brim with political refugee's and sailing the Mediterranean with nowhere to go as no country will accept her passengers. The Captain (Nikarescu played by Marcel Dalio) tries to get Mike Alexander (George Sanders) to help him out of the situation he has found himself in. But it is impossible for everyone to be taken off the boat and smuggled into Tangiers - so only six, the important people who can pay, are saved. While on board, closing the deal, Mike notices Ingrid Dekker (Patricia Roc) and taking an instant liking to her offers her escape, but seeing his dubious motives she refuses the offer.

Days later she turns up in a Tangiers night club and won't speak to him. It turns out that the boat went down with all hands and she only escaped through a stroke of luck and chance (or so she thinks). Getting nowhere with her Mike returns to Palma, Majorca (where much of the film takes place) only to be surprised by her appearance again, a few days later, with wealthy socialite Mrs Birk (wonderfully played by Agnes Moorehead). Mrs Birk has taken Ingrid under her wing so to speak... Or so it appears...

The second part of the film concerns itself with the twisting story of Mike's attempt to get out of the smuggling game by means of his "last big job". Throughout this Ingrid Dekker (Patricia Roc) doesn't know whether to love him or hate him. As the plot twists and turns and she finds out new revelations about him and what really happened to the "Chalcis" and her passengers.

Dr James Curtis (played by Herbert Marshall) makes an appearance in this part of the film too as Mike's long lost friend. But nobody is who they appear to be and so the plot provides several surprises before coming to it's dramatic ending.


Commentry
This is a small gem of a film that has rather been forgotten and mislaid. The photography is stunning (and as a point of interest the director of photography, Andre Thomas, was Patricia Roc's husband) providing wonderful panorama's of the Balearic islands.

The melodrama is satisfying and Patricia has plenty of opportunity to shine and does so in a number of situations. It's always a delight to see her get a good opportunity to tackle a meaty role.

As for the rest of the cast, Agnes Moorehead's performance adds colour to the proceedings without being as obvious as first impressions suggest and George Sanders is as he always is - a pleasure to watch even if he himself remained unimpressed (as he always did).

Perhaps the only downside to the film for me was the music which although appropriate felt a little heavy handed and overstated at times although I can see how some would like that.

Getting hold of this film may be a bit tricky. It was reissued on video in the mid 1980's in the US. But no copies have been released in England. Possibly there are copyright issues due to the nature of it's production being a joint venture between a number of countries. Which countries are responsible differ depending on which source you believe although France and the US are always mentioned. A short clip is included above to give some flavour from the film (click on the picture).