The Patricia Roc Filmography
The Man on the Eiffel Tower

RKO 1949 88mins Anscocolor

Directed by: Burgess Meredith
Photography by: Stanley Cortez
Starring: Charles Laughton, Burgess Meredith, Franchot Tone, Patricia Roc, Robert Hutton, Jean Wallace, Wilfred Hyde White, Belita

Plot Synopsis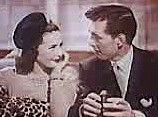 Bill Kirby (Robert Hutton) is waiting to come into an inheritance from his rich Aunt Henderson so that he can leave his wife, Helen (Patricia Roc), for his blonde mistress Edna (Jean Wallace). The day after a chance remark in a bar about how he would pay for her to be murdered she is killed and the remainder of the film concerns itself largely with the attempts of the detective Inspector Maigret (Charles Laughton) to break down the nerve of the psycopathic killer (Franchot Tone) and to find the proof needed to bring him to justice.

Commentry
This was an early independant movie produced by Burgess Meredith and Franchot Tone for A & T Productions using RKO to distribute. Paris is beautifully filmed (and billed as one of the stars of the film). However, sadly, Anscocolor does not seem to have survived very well and modern prints look rather like an early 1920's technicolor movie (you mainly get reds and black and white giving a psuedo sepia effect). Additionally the prints I have seen leave a little to be desired regarding quality too. This is a shame as the movie would I feel be far more enjoyable were the surviving prints in better condition.

This said, I do not share the opinion of many others, which seems to be that this is an "unsatisfactory" thriller. Franchot Tone, reprises a role reminiscent of his excellent performance in "Phantom Lady" (one of my favourite film noirs) in his portrayal of a psycopath who considers himself above normal people. Charles Laughton also gives a fine performance as Inspector Maigret (when has he ever given a bad performance - I do not recall ever seeing one!).

Perhaps the film does suffer from a few faults - for example Pat's role is much too small, probably only coming to a total on screen time of about five minutes. However, while she is on screen her character is tantilisingly promising. One feels if only the interplay of bitchiness between the Edna and Helen character had been played on a bit more and some more lines written for them this may have provided a nice counter balance to the rest of the story. However, this said at the end of the day this is a moderately good thriller and I feel that the tendency of most critics to dismiss it so easily is a mistake.

Perhaps it's not a movie you would want to watch over and over again but it is certainly worth viewing if you are interested in any of the stars in it. A short clip demonstrating the point is accessable by clicking on the picture above.